by Bridget Locke, Director of Strategic Communications, June 2020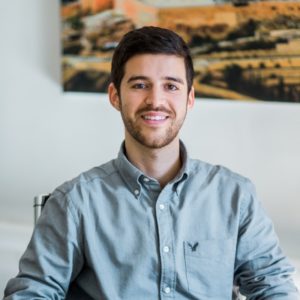 As a competitive high school athlete and student graduating from Kansas City's prestigious Barstow School, Jake Fichman, '11, had lots of options for college—but he approached his choice sensibly. After connecting with the Park University's distance running team, he believed he'd found a good fit.
"Park was the right choice for a number of reasons: it was a smaller, more intimate campus; close to Kansas City—which I love; close to my parents—whom I love; had a beautiful landscape; and generous scholarship options."
As an undergraduate, Jake formed a good rapport with his teammates, coaches and professors—particularly William Venable, who served as Assistant Professor of Marketing/Management during Jake's time at Park, and Park's Professor of Economics, Dr. Stephen Bell.
"Professor Venable and I clicked on a personal level. He inspired me to reach high and set myself up for a great future. We are still in touch. Dr. Bell taught economics in the clearest, and most interesting manner, with a real passion for the topic. I would have conversations with him after class about deeper areas of econ and really enjoyed his attitude and encouragement. Outstanding teacher."
While Jake was learning, he blazed his own business trail. Throughout his time as an undergrad, Jake ran Precision Cuts, the landscaping business he'd founded at age eight (yes, eight) on the weekends.
"I would knock on doors in my neighborhood and ask if I could cut their grass, trim bushes, and clear snow in the winter. It was my weekend job for most of my life."
In addition, Jake co-founded a second business before graduating as a Marketing and Finance double major: The Hummus Company.
"One night, I had dinner with my Park roommate and his aunt. Our waiter became my business partner! We built the business up nicely, had a factory and many customers—grocery chains, restaurants, etc. I sold my part of the company after about two years, and it still goes strong today."
Fail and try again
Although entrepreneurship is a trending topic now, Jake recalls that this wasn't necessarily the case during his formative years.  Still, becoming a business owner was practically coded into his DNA. Several members of his family, including his grandparents, parents, uncles and cousins, were business owners. Jake credits his father, Rich Fichman, with having the biggest influence on him regarding vocation and business.
"During most of my early years, we spent hours each week discussing the stock market, management, profit and loss, accounting, taxes, employment, profitability, et cetera. His support gave me the confidence to fail and try again." 
Jake's business mindset sometimes made it tough to be a student. He was eager to get out into the real world and apply himself and learn through failures and successes. He put himself on an accelerated timetable and graduated in three years by testing out of a few classes, using Advanced Placement credits, and taking summer courses.
And yet, after graduating from college and selling his business, Jake felt a shift in his purpose.
"I wasn't so excited about the 'American dream.' The idea of making more money to buy bigger, nicer things only to need to make more money to pay for those things…it just didn't make sense. I really sought the direction for my life at that point. I grew in my faith and wanted to go on a Godly-adventure. So, I learned more deeply about Israel and went to visit."
On that journey, Jake found himself amazed by what he learned about the Israeli culture ("Warm, family-friendly, passionate people," Jake marveled), and the history of the land. In the months to follow, the pull to change the direction of his life grew stronger. Jake decided to voluntarily serve as a member of the Israel Defense Forces.
Jake applied to serve in a one-and-a-half-year program. It took a while to get a response, but once he heard back, the urgency was jolting: he qualified for IDF service, but because of his older-than-average age (23 years at the time), he was instructed to make a final decision in three days, buy a ticket within the week, and move to Israel in two weeks.
"I hadn't yet talked to my family and friends about the idea, which made it tough," Jake recalled. "But as I'd waited for their response, I had become completely committed to the idea."
Jake's time in the military was inspiring … and humbling.
"Encouraged by my loving mother, Suzi Fichman, I was confident that IDF would be impressed by summa cum laude education. Nope! I ended up in an infantry unit as a combat soldier and was given combat medic training. I also had a challenging time connecting with other soldiers. I was 24 and they were 18—and I didn't know Hebrew."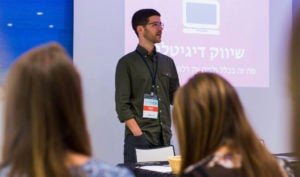 Eventually, Jake found his way. He became so enamored of Israel that he decided to stay and become a dual-citizen … which, not surprisingly, led Jake to consider his next entrepreneurial venture.
Back to business
After his time in the Israeli army, he was asked by Israel's largest travel agency to serve as a consultant. Jake saw an opportunity to capitalize on his Midwest-honed customer service sensibilities, business experience and education.
"I became a sole proprietor, dealing mostly with a few clients in marketing consulting. I quickly saw the need to become service-focused, as there were always staffing issues at organizations, which didn't allow these entities to apply the advice I gave."
In 2015, Jake began hiring freelancers, sold some retainer packages for ongoing digital platform development and content creation, and began building another business, Goldfish Marketing. In a short period of time, Jake's firm began serving niches of need in the Israeli market. As his business grew, Jake spent considerable time learning new digital skills, hiring experts, and bringing in new and bigger clients.
Goldfish Marketing's high-profile client roster includes Vogue (Goldfish Marketing leads digital marketing for Allure's new "Anywear" line); CBN (Christian Broadcast Network); the Shalva Band; Israel's biggest tour company, Sar-El; members of Knesset (Israel's "congressmen" who serve in the legislative branch of the Israeli government); and the Prime Minister's Office of Israel. The firm was also asked by Israel's Ministries of Defense, Homeland Security, and Health to produce digital strategies for the COVID-19 pandemic.
Landing the longshot: beyond blessed
Jake and Maria manage the production of the annual three-day Jerusalem Prayer Breakfast for the Israeli government, hosted by Israel's president. While in attendance in 2019, Jake met the director of the Government Press Office, who offered Goldfish Marketing an opportunity to apply for a tender (which, in laymen's terms, is a formal process by which a supplier submits a bid to provide a good or service). The application process was arduous, but ultimately, Jake was invited for an interview with the Government Press Office's board and main director.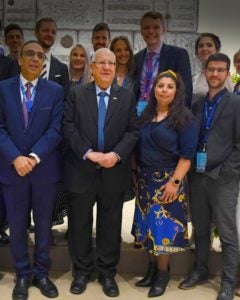 "They asked for an intro, presentation of our work portfolio, and a Q and A—all in Hebrew, of course," Jake laughed. "It was a longshot in my mind."
After a few weeks, Goldfish Marketing received confirmation from the Prime Minister of Israel's Office that they had been chosen to provide foreign correspondent service, and Jake had been named Media Advisor to Israel's Government Press Office!
"I spoke to a member of the board and admitted that I was amazed we were chosen," Jake said. "There are dozens of very successful marketing companies in Israel, with many more years of experience, and here we are, a small startup company, led by a 30-year-old. The manager said to me, 'The director and the board all agreed that Goldfish Marketing is the best digital marketing company in the entire country. That's why we picked you.' I was so proud of my team that day, and knew that we were headed in the right direction."
Jake's role as Media Advisor to the Prime Minister's Office allows him a variety of interesting roles with the government. One week, he may work with a governmental ministry to advise on a new digital campaign for citizen awareness; the next, he might be asked to develop a network of global influencers who would be inspired to visit Israel with the promise of a press event and meeting with the Prime Minister.
Jake has learned a lot about leadership in his current role. Leaders must inspire teams to want to follow in good times and tough times, and must give 110 percent when client demands and timelines get overwhelming, he believes.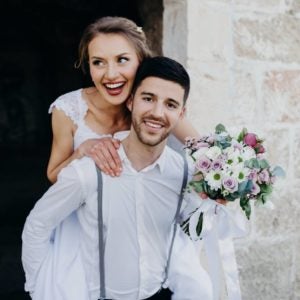 But more than anything, Jake said, it's important to love what you do, and love the people you do it for and with. The "for" and "with," primarily for Jake, are his wife, Maria, and their baby daughter, Yael. 
"Maria has been monumental in all that's happened since 2016," he beamed. "She is my partner, my support, my counselor, and my sounding board. She interviews new workers with me, manages a few clients, directs some of the team, and helps me make core decisions—all while studying physical therapy at Tel Aviv University and raising our daughter."
At age 30, there is likely a long road ahead for Jake in life and business, full of lessons and opportunities. But as he looks back on his experiences, and considers his great fortune to be surrounded by people who inspire and motivate him daily, he again approaches it sensibly:
"I am beyond blessed."