by Bridget Locke, Director of Strategic Communications, October 2019
Editor's note: You know their names and titles … but do you know what makes them tick? Check this space often during the Fall 2019 semester to learn more about Park University's executive team.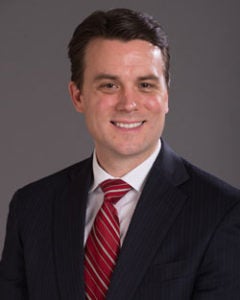 Shane B. Smeed, who joined Park University in 2015, serves as vice president and chief operating officer. He provides strategic and operational leadership to a department that includes associate vice presidents, deans, directors and more. Shane oversees enrollment services, marketing, student affairs, campus center operations, athletics and strategic initiatives.
In the following Q&A with the Office of University Engagement, Shane discusses the Smeed family's non-negotiable, the advantage of early adoption and a hoopty's saving grace.
University Engagement: What is your higher ed story? How has education transformed your life?
Shane Smeed: My father worked in higher education his entire career, so obtaining a university degree was often discussed and non-negotiable in the Smeed family growing up.  My father started his career teaching, transitioned to administration, then finished as a teacher.  Like my father, I too see higher education as a calling.  I love serving students and attempt to inspire them to help change a generation's outlook on learning.  My wife and I both have a love of learning so we hope we can also instill this into the hearts of our three children.
UE: What kind of child were you? Well-behaved or a little ornery?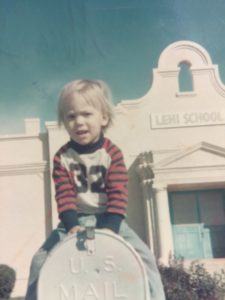 SS: I managed to behave most of the time, but my mom occasionally threatened to mail me to my grandma's house if I didn't behave.  
UE: Why Park University?
SS: I feel incredibly fortunate to work at Park University!  It is a unique, one-of-a-kind university which supports 16,000+ students at 42 different locations.  In my 20+ years in higher education, I've never seen nor worked alongside a more dedicated group of faculty and staff committed to serving both traditional and adult learners!
UE: What fashion trend did you embrace in the past that embarrasses you now?
SS: There have been so many…from pegged jeans, to mullet haircuts, or maybe my favorite jean jacket with the Prince/Purple Rain iron-on patch covering the entire back.
UE: Describe your first car.
SS: I had an old burgundy Datsun that I bought for $850 while saving money by washing dishes at Tippin's Restaurant.  It was a total clunker but it had boxed speakers with an amplifier in the trunk that would make any teenage boy proud of his hoopty!
UE: What are the higher ed trends that you want to be sure Park faculty and staff know about?
SS: Our synchronously offered "Pirate Patch" courses are allowing students the opportunity to take real-time classes that may have previously been offered only in an asynchronous, online environment.  As one of the early adopters using this technology, other colleges and universities will now attempt to replicate in order to meet the needs of deserving students everywhere.