by Bridget Locke, Director of Strategic Communications, July 2020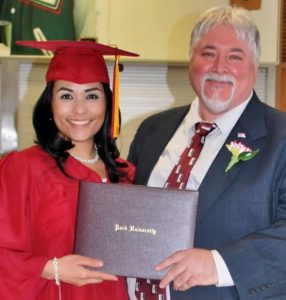 Although Rachel Borjas, '14, '20, and current graduate student in Park University's Master in Public Administration program, didn't realize during childhood that she was living in poverty, her adult perspective is very different.
"I came from very little. My parents were U.S. born but did not graduate from high school. They chose migrant work because that's all they could do," said Rachel. "We lived in housing projects and in shacks while we worked the fields. Education was not something my family emphasized."
Still, Rachel, a San Benito, Tex., native and youngest of four siblings, knew that she was destined for something different … something more.
"My life today is a complete 180-degree turn from the life I had as a child."
Stability and motivation
Though it was a challenge to complete school due to the migratory nature of her parents' work ("I was always enrolled late and withdrawn from school early," Rachel recalled), she completed high school. Later, she married an airman and adapted to military life. During that time, Park University provided a sense of stability.
"Park was one of the only consistent universities throughout our military life that I saw," she said. "So, I enrolled and stuck with Park."
Along the way, Rachel has met several faculty and staff members who have collaborated with her and made her feel like "more than a number." Grand Forks AFB Campus Center Director Edwin "Ed" James, in particular, has left a very meaningful impression.
"I will forever boast about Ed," Rachel said. "He didn't know, but my dad passed a long while back and I never had a father figure to guide or motivate me. When I had self-doubt or saw that I was hesitating, Ed encouraged me. He couldn't have known how much it meant."
Ed is just as big a fan of Rachel's:
"Rachel is a wonderful young woman who has worked hard to get to where she is," he said. "She has always been very appreciative but I remind her constantly that I have just provided some direction and support. She is the one who has done the work and earned what she has achieved educationally and professionally."
The end product
Today, in addition to continuing her education as a graduate student, Rachel works for the Department of Homeland Security at the Houston Field Office. Although she is currently a member of the Tactical Terrorism Response Team, she was initially drawn to a career with DHS because she hoped to help stop drug trafficking—also a remnant of her challenging childhood.
"I chose DHS because I wanted to make a difference. I was raised around drugs and have seen what it does to people and families. I wanted to do something to prevent drugs from coming across the border and reduce the amount of drugs available to young people."
Oftentimes, when speaking about the importance of pursuing and finishing a degree program, Park University President Greg Gunderson talks about education's power to influence and change the trajectory of an entire family's destiny. He calls it the "comet trail" of higher education.
Rachel sees her pursuit of higher education and a better life as functioning in a similar way: "I changed my stars," she said.
And her family has followed suit.
"My oldest sister earned her bachelor's degree at 38," she said. "My kids are enrolled in college now. My nieces and nephews are attending universities, too. They are being taught the importance of education and that it is now a necessity."
No matter the circumstances or challenges, Rachel says, the power to change your life lies within your mind's capacity to believe and your willingness to work hard.
"You can do whatever you set your mind to," Rachel said. "Work hard and carry the sentiment both in your mind and heart that failure is not an option. You are enough. You can do it. You are not a product of your environment, but rather, an end product of what you decide."