by Bridget Locke, Director of Strategic Communications, October 2019
Editor's note: You know their names and titles … but do you know what makes them tick? Check this space often during the Fall 2019 semester to learn more about Park University's executive team.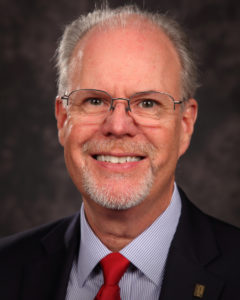 Roger Dusing, Ph.D., serves as chief human resources officer at Park University. He directs human resources and payroll operations for the University and serves as Park's Title IX officer.
In the following Q&A with the Office of University Engagement, Roger reflects on his road to HR, the power of making people better and the importance of a good pair of bell bottoms.
University Engagement: Describe a day in the life of a Chief Human Resources Officer at Park University.
Roger Dusing: Hectic, always varying and rarely what I planned.  I tell people that the main reason I like HR is that I never cease to be amazed at what people do. Rarely can I predict what's going to happen on any given day or in any given situation.  I spend a lot of time in meetings and a lot of time standing in front of my computer trying to keep up with email, special projects, and multiple responsibilities.
UE: What surprises you about this role?
RD: I've been a CHRO in one form or another for over 30 years, so there isn't much that surprises me.  I enjoy the work and I love Park.
UE: What led you to this career? Is this what you wanted to be when you grew up?  
RD: Until I graduated college, I had never heard of personnel or human resources.  I started my career as an industrial engineer for a large area bank.  I was able to work on some projects with the personnel department, including designing a performance review system and facilitating a large suggestion system.  Then I got laid off (for the first of seven times) and found a new job in HR.  I've pretty much been here ever since.
UE: Why Park University?
RD: It's a family thing. Plus, we get the chance to transform lives.  To have a "product" that lasts forever … to work with people who aren't making widgets but are making people better and more capable than they were before–it's very powerful.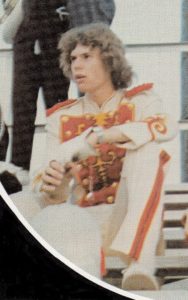 UE: What fashion trend did you embrace in the past that embarrasses you now? 
RD: Back in the '70s, it was all about the hair and bell bottoms. I sported both quite nicely.
UE: What are you reading?
RD: I read a lot and alternate between crime fiction (I enjoy Lee Child, John Sandford, Steve Martini, John Grisham, etc.), history/biography (I'm currently working on a book about the first months of WWI), and business/leadership books (most recently, I read Bucket Heads and The Leadership Quotient).
UE: Finish this sentence: people who don't know me well would be surprised to know that I am …
RD: … really enjoying learning to make pens and being creative with small pieces of wood.