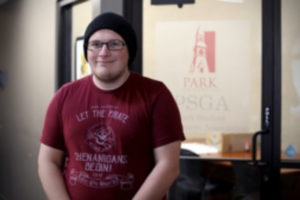 From a very early age, Park University junior Jesse Patrick has been determined to figure out how things work.
"It started with watching my brother play video games," Jesse recalled. "I spent hours by his side while he played 'Legend of Zelda: Ocarina of Time.' Everything about it intrigued me; even the basic walking, climbing and attack components. I was determined to learn how it all operated."  
Jesse's interest in computer technology grew and eventually paved the way to his chosen field of study: Information and Computer Science. As an ICS major, Jesse's natural curiosity and need to understand function and structure serves him well when navigating the program's rigorous math and computer programming curriculum.
His inquisitive nature has also led to other revelations: since Jesse's first day on campus in 2016, he's been focused on figuring out how to make the college experience work best for his development.
"I wasn't very involved in high school," Jesse shared. "When I look back, I realize that time of my life wasn't as satisfying as it could have been. I wanted things to be different in college, so making the most of my time here became a top priority."
For Jesse, "making the most" of his time entailed getting out of his comfort zone to engage with new people, even when it felt awkward. At times, talking to people he didn't know was intimidating. Still, he persevered, and his networking led him to a circle of good friends and University organizations.
In spring 2018, Jesse, a Fides et Labor scholarship recipient, was elected president of Park Student Government Association. In addition to leading PSGA, Jesse serves as president of Park's chapter of the National Society of Leadership and Success. He is also a student ambassador and works on campus as a resident assistant.
Last August, Jesse stood on the Graham Tyler Memorial Chapel stage at Park's annual Opening Convocation to address new students. During his remarks, Jesse offered the same words of advice that he continues to apply to his own life: meet new people and get involved.
"As a freshman, I never would have thought that someday I would be president of PSGA, but here I am," Jesse said. "I encourage all of you to get out of your comfort zones, too. And if you feel like everyone's a stranger like I felt at first, at least now you know one person … you know me."
Interested in coming to Park U? Visit park.edu/request-info to learn more.
Are you a current student who wants to get involved? Go to crew.park.edu to connect!