by Bridget Locke, Director of Strategic Communications, June 2020
Ask Park University Director of Military and Veteran Student Services Sarah Weygand, '16, what she wants people to know about her, and she'll give a simple answer: "I'm approachable and here to help."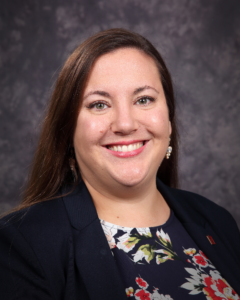 Brandy Madrigal, a Park University student and military spouse, agrees:
"I reached out to the Warrior Center to find out why the GI Bill® was not covering my tuition. Sarah explained that there was a possible mix up and advised me to contact the VA. I did, and to my surprise, Sarah had also reached out on my behalf, knowing that this can be a lengthy process. Her service speaks volumes to the military community. Any student who is lucky enough to work with Ms. Weygand is in great hands. She puts in every effort to help us succeed."
Helping students succeed is simple, from Sarah's perspective. She understands that honoring students' personal experiences is key to providing the best level of support.
"Military-connected students come from all over the world," Sarah shared. "Park serves veterans who have survived combat situations; disabled veterans; reservists who have been deployed to help those affected by natural disasters; and spouses and children of service members who have moved multiple times … you name it. They all have different experiences, and each one brings their own culture and history with them. Our military students are influenced by the military, but there's so much more to their stories."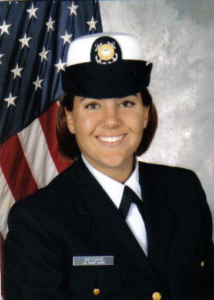 Like many other students
Sarah's own story began in North Attleborough, Massachusetts. After high school, she attended a four-year University, but left after the first year. She felt lost.
"I just didn't have direction," Sarah reflected. "Like many other students who are unprepared for the lack of structure and feel uncertain about their plans for their lives, I failed out of school my first year and went back home."
Still, she had a sense of the type of roles that excited her. Sarah, raised around water, had served as a lifeguard and emergency medical technician. "I loved the responsibility of emergency service and helping people."
She attended Community College of Rhode Island, got fit and took the ASVAB test and enlisted in into the Coast Guard Reserves. Sarah was stationed at Port Security Unit in Cape Cod, Massachusetts, where she became qualified as a Boatswain's Mate and a combat medic, and advanced to Petty Officer 3rd Class (E-4). All the while, she prepared for a chance to serve full time. Then, in 2008, an active duty slot opened up.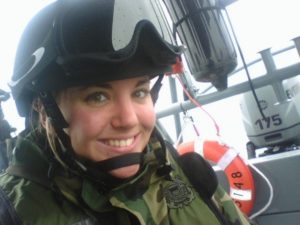 "I jumped at the opportunity," she said.
Sarah was stationed at the U.S. Coast Guard Training Center in Cape May, New Jersey, where the Coast Guard houses their basic training. Later, she became qualified as a fitness and swimming instructor for Coast Guard recruits in basic training.
Love at first (web) sight
Sarah and her husband Aaron, whom she met while serving in different units at the training center, left the Coast Guard in 2011. After living in Roanoke, Virginia, for two years, Sarah and Aaron moved to his hometown of Leavenworth, Kansas, to be closer to his aging grandparents. During this time, Sarah found Park University—by accident.
"An acquaintance heard me lamenting about another university that wouldn't accept my GI Bill® for out-of-state tuition and told me to check out Park. I visited the website and fell in love! I saw that Park was military- and veteran-friendly, and offered the degree I was looking for. The rest is history."
Sarah earned a Bachelor of Science in Fitness and Wellness from Park in 2016.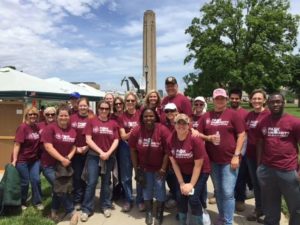 "When I graduated from Park, it had been 10 years, start to finish, to get my degree. I graduated Magna Cum Laude," she said, proudly. "If I can do it, other veterans and non-traditional students can do it."
Around the same time, Sarah joined Park's staff. In 2019, she was promoted to Director of Military Services.
In addition to managing full time staff and work study students in the Global Warrior Center, Sarah ensures timely processing of VA educational benefits, collaborates with interdepartmental staff on programming and training, and creates connections with outside veteran service organizations.
"One of my favorite aspects of the job is collaborating with so many different people and departments," she said.
Sarah continues to sharpen her tools. On May 14, she graduated from the 2019-20 cohort of Pirates Rising, Park's internal leadership development program; plans to enroll in Park's Master of Arts in Organizational Leadership and Adult Learning this fall; and is thriving in her mentor/mentee relationship with Colonel Andrew Shoffner, Director of the Department of Command and Leadership at the U.S. Army Command and General Staff College, and a Park trustee.
"He's been really helpful in pushing me to prioritize my actions and organize my life," she said. "Col. Shoffner is the perfect combination of efficiency, directness and kindness. He's the type of leader I aspire to be."
But ultimately, all roads lead back to helping people. It's what she loves to do. And in that regard, she wants to help everyone understand: military-connected and non-military communities have more in common than not.
"We face barriers to education, are often older than traditional students, and may sometimes use different phrases, but military-connected students are like all students. We're seeking education to achieve our goals, and to better our lives and the lives of our families," Sarah said. "We are trying to learn and grow. Take the time to engage with us. The interaction might be more meaningful and enlightening than you realize."
---
GI Bill® is a registered trademark of the U.S. Department of Veterans Affairs (VA). More information about education benefits offered by VA is available at the official U.S. government website at https://www.benefits.va.gov/gibill.