Isaiah Nichols, a Park U Criminal Justice major, is like many other graduating seniors. When asked about his plans immediately following commencement on May 11, his eyes light up with joy.
"I cannot wait to celebrate," Isaiah smiled. "It's been a long time coming."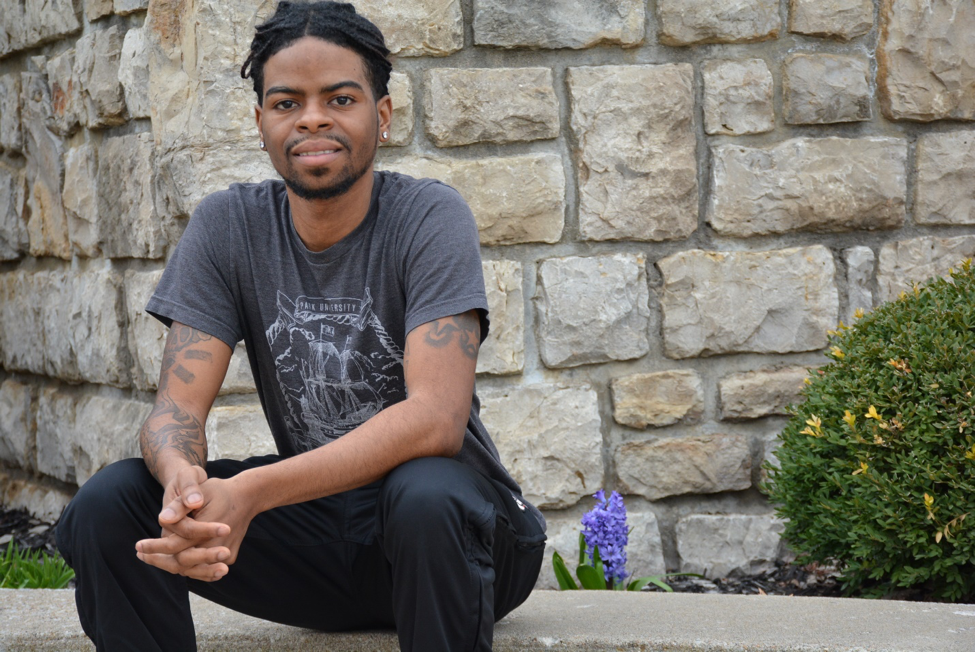 When asked about his plans beyond graduation night, Isaiah's eyes remain joyful, but his words grow more focused and intentional:
"After I graduate, I'll move back to Chicago and will apply to become an officer with the Chicago Police Department. I also plan to enroll in graduate school to study Criminal Justice – Law Enforcement. My end game is to be promoted to detective on the force and someday join the Chicago Police Board."
Struggle and Strain
Although there has been a reported decrease in crime in Chicago, Ill., it's no secret that the city has struggled. Isaiah hails from the south side—Englewood, specifically, which is one of more than 70 official neighborhoods in the City of Chicago. While there was a need for officers to engage in his neighborhood because of crime in the area, from as early as he can remember, Isaiah saw and felt the strain in community-police relations. From his perspective, there was a marked absence of police presence during his community's good moments, and an abundance of distrust when officers came around. In fact, he was impacted personally by the tension.
"When I was younger, I witnessed and experienced harassment," Isaiah recalls. "Once, when I was coming home from baseball practice, an officer stopped me and asked if I had a gun. When I said, 'No,' he pushed me against the wall, searched me and asked if I was a drug dealer. Of course he let me go because I hadn't done anything wrong."
This type of experience wasn't unique to Isaiah. During a family gathering, his older brother was pulled out of a car, thrown on the hood and handcuffed without explanation.
"Those moments were devastating for us," he said.
But beyond the emotion of the moment, these interactions were disappointing to Isaiah because they spoke to a bigger issue.
"We only experienced interaction with officers in a negative context. I knew there had to be a better way to relate. It gnawed at my conscience."
Over time, many of Isaiah's family and peers grew wary and suspicious of the police. But where they saw a lost cause, he saw the potential for change. At age 16, Isaiah—a talented athlete whose popularity at Leo Catholic High School as a college baseball prospect was growing—redirected his attention to a future in law enforcement.
A Seat at the Table
Isaiah came to Park U in 2016 and grew inspired by the insightful, task-oriented instruction he received from his professors. He names Gregory Plumb, J.D.,  John Hamilton, Ph.D. and Cindy Anderson, Ph.D. as the most academically influential on his time at Park.
"It has been really beneficial to learn from people who have experience in the field you're studying," Isaiah said. "It feels as if you're receiving inside information that you'll be able to apply as soon as you've graduated."
His biggest personal inspiration has been his mother, Frankie Nichols. 
"My mother has survived two strokes and breast cancer. Now, she's fighting her way back to health after spinal cord surgery. She's a nurse, and spending all those years on her feet has taken a toll on her body. But she's a fighter and has saved countless lives. She pushes me to be a fighter. My mother is my biggest inspiration."   
After graduation, Isaiah looks forward to reuniting with his mother, his grandmother (another influential woman in his life to whom he dedicated his academic year) and is eager to begin the lengthy process of applying to the Chicago Police Department. 
"Ultimately, I want to level the playing field for everyone in my community. I believe the best way to achieve that is have a seat at the table to better understand the processes and systems that affect all of us. That is the most impactful way to protect and serve."