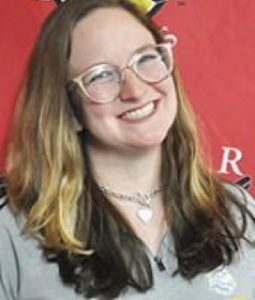 March is Women's History Month, a time when the innumerable contributions of women to world history are more intentionally studied, recognized and honored. At Park University, we have history makers of our own to celebrate.
One such trailblazer is Ashley Jones, Park's varsity esports coach.  
In July 2018, Park became the first college/university in the Kansas City area to announce the offering of a varsity esports program, starting with the Spring 2019 semester. After an extensive nationwide search, Ashley was hired for the head coaching position.
In January, Ashley began coaching Carin Bublitz, Johnny Carrazco, Nic Gresham, Yewon Lee, Laura Passler, Vince Payne, and Jake Watson, the University's "League of Legends" team, but she has been passionate about esports since its inception. In fact, playing "League of Legends" was one way that Ashley found a sense of community and a circle of friends as a college student.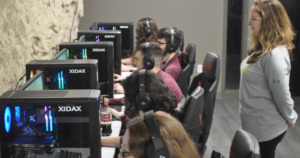 After graduating with a Bachelor of Arts in Sociology from the University of Florida in 2013, Ashley was certain she wanted a career in esports, but found few career opportunities in the industry that were right for her at the time.
While waiting, she took volunteer positions with private esports organizations to gain experience and exposure. As viable career opportunities opened up, she started a job search and narrowed down what she wanted:
"Coaching esports at the collegiate level became my dream."
Nick Carter, Ashley's former supervisor at the University of Florida, served as a mentor during this period of professional and personal discovery.
"Mr. Carter offered me a position in the Information Technology Department, even though I had no prior IT experience. He hired me because of my work ethic. He believed I could take on any task that he assigned and always pushed me to be the best versions of myself, professionally and personally. He understood my passion for esports and supported my dreams in pursuing it as a career."

Go for it!
Although there remains a national conversation about the lack of gender diversity in the sport ("Esports is getting bigger every year, so where are all the women?" Variety recently asked), Ashley feels fortunate to have experienced no negative issues in her career and is proud to coach Park's first varsity co-ed esports team.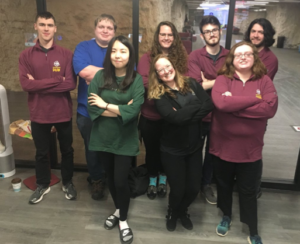 "The community has been supportive from the beginning," she shared.
Still, if Ashley could offer words of wisdom to other women considering an esports career, Ashley would offer the same encouragement she received.
"Go for it! Work hard, keep your head down, and push through any negativity that might come your way," Ashley advised. "If it is something you are passionate about and you want it badly enough, it is all worth it when you finally end up exactly where you want to be."
Interested in seeing Park's esports team in action? Their inaugural League of Legends season just ended, but the team will be joining new tournaments soon. Check Park.edu/esports often for updated schedule information, and be sure to follow them on Twitch at twitch.tv/parkesports, catch streams of their matches by following Park Athletics on YouTube, or stop by the Parkade Battlegrounds on the Parkville Campus.