by Bridget Locke, Director of Strategic Communications, June 2020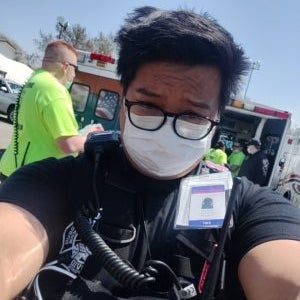 In 2018, Jason Roy, a licensed Emergency Medical Technician living in California, made himself a promise.
"I enjoy what I do, but couldn't see myself in a 20-year career as an EMT," Jason said. "So I promised myself that in 2020, I would become a student."
The son of two nurses, Jason decided that a career in nursing was his logical next step. He researched several schools, including a few larger institutions closer to his home on the West Coast, but found himself drawn to a private liberal arts institution in the Midwest with smaller class sizes and friendly admissions representatives.
So, Jason kept his word. He moved to Missouri and, in January 2020, began taking classes at Park University.
Then the pandemic hit.
Set up for service
Jason has been serving others for a long time. After high school, he joined the U.S. Marine Corps—albeit as a bit of a fluke. 
"I intended to join the Navy," Jason said. "When I arrived at the recruiting station, everyone on the Navy's side was gone," he laughed. "But the Marines were still there and asked, 'Why don't you talk to us?' So I wound up joining the Marines instead."
As a Marine, Jason became a radio operator and eventually, his post-military career aspirations came into focus. 
"When I left the Marines, I had no idea what I wanted to do. I had the tools to do something great if I applied myself, but I struggled trying to find that purpose. Health care wasn't even on my radar until a friend invited me to do a ride along in an ambulance. That invitation was the match that lit the spark." 
Jason became a licensed EMT in 2015. He has also volunteered for disaster relief efforts all over the world. Over the past three years, he has helped with Hurricane Harvey recovery efforts, for which he was awarded the President's Volunteer Service Award; volunteered during the California wildfires; and traveled to Indonesia with a non-profit organization called All Hands and Hearts to assist with earthquake relief. 
So, when Park's classes moved online as a safety measure to prevent the spread of COVID-19, Jason was well-prepared to serve on the front lines of the pandemic.
Jason works part time as an EMT for an ambulance company that has a contract with FEMA. When the Fire Department of the City of New York City needed more ambulances for the overwhelming onslaught of emergency calls brought about by the coronavirus pandemic, they called FEMA for help. In response, 50 health care professionals from Kansas, Missouri, Iowa, Nebraska and Ohio left for New York City in March. Jason was among them.
"We traveled together, stayed in the same hotel and were all assigned to task forces," Jason said. "I was part of Task Force 7, which was assigned to cover Central Brooklyn, one of the hardest hit areas in New York City. My radio and unit name was 870-Nora."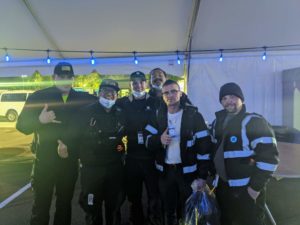 Their assistance was greatly needed; when Jason arrived, the FDNY was responding to 6,000 emergency calls a day—double their 3,000-a-day, pre-pandemic average. His shift was officially scheduled from 2 p.m. – 2 a.m., but the real workday stretched to about 18 hours. 
"All of FEMA's ambulances were dispatched from the Bronx Zoo. I'd start there in the ambulance around 11 a.m., work my shift, return to the hotel sometime after 4 a.m., and do it all over again," Jason recalled. 
Most of the people they encountered were extremely sick and, in many cases, required CPR. The stretchers were too big for the elevators, so if they were stable enough to be moved, the patients were carried down many flights of stairs to the ambulance.
"Imagine being dressed in full gloves, a gown, mask, and face shield, with a 30-pound medical bag, and using the stairs to bring a person down six flights of stairs," Jason said.
"We still had to respond to other emergencies, as well," he continued. "People were still getting shot, stabbed, into car accidents, having strokes, giving birth, and the coronavirus just added to it. We did our best, and I can think back to a few of those emergencies where we made a big difference."
Those who were deployed to New York through FEMA were assigned three weeks on, one day off. Although the schedule was grueling, Jason rarely heard complaining and saw no fear. The spirit of teamwork was apparent as soon as he arrived, and as the days went on, the task forces became more like family.
"We all signed up in the middle of a pandemic to do what we do best. Healthcare workers from all over the country came together to help others, no matter the risk to ourselves. We had no manual for what we were doing; we were effectively writing that manual in real time. All of us were proud to make that contribution."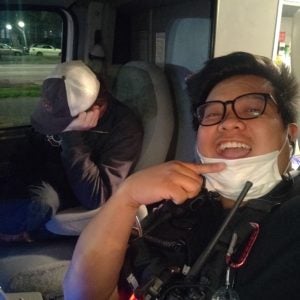 Ready for what's next
After his volunteer assignment was completed, Jason returned to Riverside, Mo. to rest, recover and settle back into life as a college student.  
"I was happy to be home and sad I couldn't stay longer," said Jason. 
Now, he's getting geared up for his next semester at Park with a new perspective on life, a refreshed confidence in his chosen institution ("I believe that Park the best-equipped school to get me to where I need to be and I'm going full sprint until I reach my goals," he said), and renewed faith he is on the right career path. 
"I didn't have all the answers growing up," Jason reflected. "Seventeen-year-old me in high school would never have guessed that I'd end up going to school to become a nurse. My parents tried so hard to make me want to be a nurse, but I ran away from it. Over the years, I made my own path, and through living life, I discovered what my passions were."
Jason knows that there are other students searching for answers, too. He wants to assure them: finding your purpose is possible.
"Students go to college to find out what they should do. While some don't have a hard time finding these answers, others struggle. I want to encourage the students who might be having a tough time. You might not have the answers now, but as long as you live your life and stay true to what you believe, the answers will become as clear for you as they became for me."