by Bridget Locke, Director of Strategic Communications, May 2020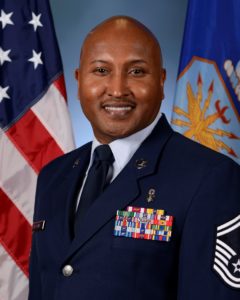 Retired Senior Master Sergeant Marvin Hawkins, a Class of 2020 Park University graduate, is accustomed to servant leadership.
Over the course of his military career, Marvin (as he prefers today) served in the U.S. Air Force as a Dental Assistant, later advancing to Dental Squadron Superintendent and Medical Operations Squadron Superintendent, a role in which he managed personnel while operating as principal advisor to the Squadron Commander. The position taught him the importance of being a flexible leader who inspires collaboration and trust.
"I observed, listened to others and sometimes found that the old ways were not necessarily the best ways," Marvin said. "I would often ask, 'How can we do it better?'"
Leading by serving is also the common factor that drew him to Park. He was immediately impressed by the staff and faculty who were willing to serve students with a tailored experience, focused squarely on their development and success.
"I was previously enrolled in another institution," Marvin shared, "but felt very comfortable with Park's staff during my initial visit at Goodfellow Air Force Base. The University's reputation, course outlines, enrollment processes and guidance made switching an easy decision for me."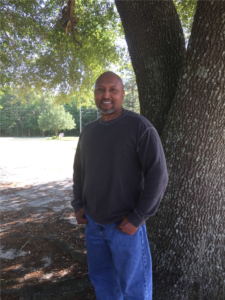 Pivotal people
Though Marvin was fulfilled in his military career, he felt led to establish stretch goals for himself and had military mentors who encouraged him to lean into this instinct. While stationed at Kadena Air Base in Okinawa, Japan, Marvin's Squadron Superintendent and mentor, Senior Master Sergeant Edward Breen, often nudged him to pursue his degree. Another mentor, Chief Master Sergeant Scott Thompson, a Group Superintendent for whom Marvin worked while stationed at Goodfellow, checked in each semester to make sure Marvin took classes.
"I was a late bloomer when it came to starting college, and there were a number of times when I had to take a break from classes due to deployments and other commitments—but I kept moving forward," Marvin said.
Once he enrolled at Park, Marvin encountered another pivotal person: Wendy Medina, Park's Goodfellow AFB Campus Center Director.
He initially pursued studies in business management, but eventually realized that his heart and interests leaned in a different direction—or perhaps, more accurately, in the direction they always had. After consulting with Wendy, Marvin decided to pursue a Bachelor of Public Administration degree with an emphasis in public service.
"I needed to change direction. I was very close to finishing—just a few classes short—and Wendy audited my degree progress. In the process, she identified a few other degree programs that more closely mirrored my previous job. Sometimes we just need a little help finding the educational path that supports our aspirations and educational goals. I can't thank her enough for her patience, time and effort," Marvin said.
Get it and give it
Marvin, who now resides in South Carolina, completed his program in March 2020 and is currently contemplating his next career move. He knows he is called to serve, as well as to continue learning. Marvin has plans to begin graduate studies in Park's Master of Public Administration program.
"But first, I'm going to take a breath," he joked.
On a more reflective note, as he looks back on his time in the military and his journey through college, he understands the importance of building mentoring relationships and wants everyone else to understand it, too.  
"Taking college classes can be difficult. Family and work obligations can make it challenging to focus on your goals. Look to your mentors for help and guidance. Sometimes a simple course correction is all you need, like Wendy did for me," Marvin said. "Now, I can proudly say I graduated Magna Cum Laude. It can be a constant juggle, but never give up."
Marvin also believes that the power of mentoring flows both ways. Giving back what you receive is just as important.
"Learn, and then pass on your experiences to others. You never know how you may influence someone on his or her journey to completing a significant milestone. When you help other people become better at whatever capacity, it seems to circle back in a positive way. It's incredible the relationships you can build when you're able to encourage and empower others."