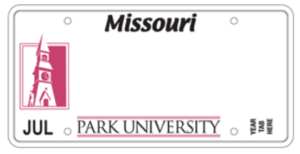 Show your Park pride with an official Park University license plate! Each license plate purchase benefits the area of your choice at the University.
How do I get one?
Make a tax-deductible donation to Park University in the amount of $25 for annual plate renewal or $50 for biennial renewal. To make a donation:
a. Send a check payable to Park University to: Office of Advancement, 8700 NW River Park Drive Box 65, Parkville, MO 64152. Note "License Plate" in the memo line.
b. Use the donation form below.
After you make your donation, Park will mail your Emblem Use Authorization Statement (EUAS). The form is proof that you contributed to Park University and is required by the Missouri Department of Motor Vehicles when you submit your plate application.
Once you have your EUAS, complete the process at your local license office or online to order a State of Missouri personalized plate (Form 1716). To obtain forms or learn about the process, visit dor.mo.gov/motor-vehicle/plates/#personalized.
Missouri Department of Vehicle Requirements
Park University specialty license plates are personalized plates available to registered Missouri vehicles only, including: passenger vehicles, trucks (up to 18,000 lbs.), motorcycles, and RVs. Personalized plates may contain up to six alphanumeric characters (or up to five alphanumeric characters plus one space, hyphen or apostrophe). With the proper documentation, they can be ordered through your local license office or online. Check to see if your personalized configuration is available at sa.dor.mo.gov/mv/plates4u/available.
Questions?
For questions regarding your donation, please email alumnioffice@park.edu or call (816) 584-6200.
For questions regarding the license plate or process required by the Missouri Department of Revenue, visit your local license office, visit dor.mo.gov, or email mvbmail@dor.mo.gov.