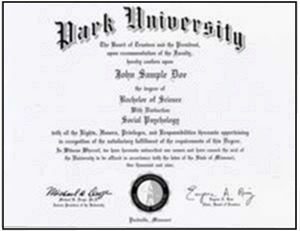 Please note: If you are a student applying for graduation go to MY PARK
Alumni who graduated from "Park College" can now order diplomas that state "Park University". These diplomas will bear the new school name and the signatures of the current University President and Board of Trustees chair.
Duplicate diplomas ordered after graduation may be ordered using this form. However, these diplomas will be created in the current format used and bear signatures of the current administration. The diploma fee is $75.
SUPPORTING PARK UNIVERSITY
Proceeds from the purchase of a replacement or duplicate diploma support the Marlowe Sherwood Memorial Scholarship Fund, the Alumni Association's legacy scholarship. This scholarship is designed to assist alumni to continue their own education in a Park graduate program or to send their spouses, siblings, children, nieces, nephews, grandchildren, parents and grandparents (inlcuding stepchildren, etc.) to Park. This scholarship is "created by the alumni for the alumni." You will receive a gift receipt for your taxes in the mail.
Diploma frames may be purchased from the Online bookstore.
ORDER INSTRUCTIONS
Alumni need to submit separate orders for each degree (AA, BA, BS, MBA, etc.).
Please note: Diplomas may take up to 90 days to be delivered.
By Mail or Email: If you prefer to print and order by mail or email, click here.
By Phone: Call 1-800-488-7275 or 816-584-6265.