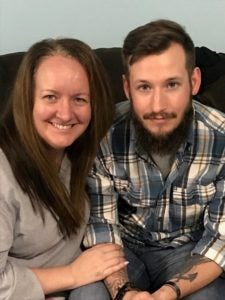 by Annali Dolman, University Relations  Coordinator, July 2019
Graduation offers families and loved ones a chance to recognize the hard work, commitment and accomplishments of the students who make up the graduating class. For Tina and Brandon Bird—mom and son, and both now Park University alumni—the Kansas City-area Spring commencement ceremony was even more special. This past May, this duo crossed Park's graduation stage together.
Tina, a self-described "Navy baby" from Norfolk, Va., moved around the country with her military family until, at age 16, she settled in Kansas City, Mo. Years later, as a working adult, Tina enrolled in a local community college, then enrolled at Park in 2010. Her employer (which offered tuition benefits at the time) eventually shut down, but her enthusiasm for higher education never did. Tina returned to community college to complete her associate's degree and then came back to Park to pursue a Bachelor of Science in Human Resource Management.
Brandon's road to Park was paved a little differently. After leaving the military in 2015, Brandon began his studies at Park in 2016, following a recommendation he received from a fellow veteran. It was the Global Warrior Center that drew him in and he was hired on a short time later as a Park University Campus Safety Officer.
"It felt like the military," Brandon said, when asked about his connection with the Global Warrior Center. "We were all close and it was a place to relax, do homework, and joke around with each other. We had all served so we could all help each other out with things most traditional college students didn't understand."
This spring, Brandon graduated with a Bachelor of Business Administration with an emphasis in Management, and Tina crossed the commencement stage the same day, having completed her Human Resources program. And, in the spirit of "keeping it in the family," Tina's daughter and Brandon's sister, Ashley, is a current Park Marketing student.
Through it all, Tina wanted to be sure her children understood that a commitment to education, even in the face of adversity, will carry them far. While modeling resilience for her children, she has also appreciated having them nearby as a built-in support system while achieving this milestone. "One of my proudest moments was experiencing graduation with my son, while knowing that Ashley will follow in our footsteps next year," Tina said.  "They have been my biggest cheerleaders, and it's been an honor to go to school with them."
Brandon, too, has appreciated the journey and is excited about what the future holds.
"While I've enjoyed my time at Park, I'm looking forward to the new opportunities waiting for me. With my degree in hand, I aim to fully utilize the skills and knowledge that I gained while in the military and at Park."
"I have enjoyed my time as a Park student and look forward to the new opportunities that having a degree in hand will bring. A military background and Park education is a powerful combination."