Ask Wakisha Briggs, Park University's Director of Continuing Education, to describe her demeanor in leadership and life, and she'll offer one word that speaks a thousand:
"Motivated."
In fact, if you spend any amount of time with Wakisha, you'll pick up on her sense of urgency rather quickly. She is friendly, engaging and curious about others, but keenly observant and eager to get to the business at hand.
This down-to-brass-tacks approach may be a remnant of the decades Wakisha spent as an athlete and coach. In her youth, Wakisha's disciplined competitive spirit caused her to excel in basketball and led her to Metropolitan Community College—Penn Valley (Kansas City, Mo.) on a basketball scholarship. After graduating from college, Wakisha began her coaching career in women's basketball, joining the staffs of Penn Valley, then Fort Scott Community College (Fort Scott, Kan.), as an assistant women's basketball coach.
In 2007, she joined Park in a dual role: assistant basketball coach and continuing education specialist. Working alongside Park's legendary head coach, the late Joe C. Meriwether, to lead the women's team further raised Wakisha's profile—eventually opening the door to a five-year, part-time head coaching stint at Penn Valley Community College. During this time, her concurrent continuing education work at Park grew in scope and importance. While building leaders in basketball, she recognized her calling beyond the court.
Building a "Bridge"
In 2010, Wakisha founded Bridge Leadership Academy, a non-profit organization purposed to build tomorrow's leaders through character-based development, education, personal and professional discovery, and committed community service.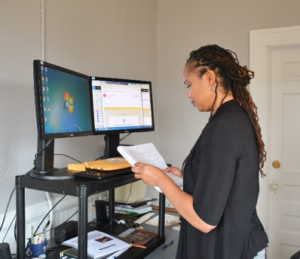 "I had been watching retention trends for a long time—especially for students of color—and realized that I needed to help prepare them to succeed in higher education. I believe the African proverb is true: it takes a village to raise children. I wasn't afforded the opportunity to bear children of my own, so my afterschool program gives me a chance to contribute to 'the village,'" Wakisha said.
Thoughts of creating a lasting legacy of her own yielded another revelation: becoming more effective requires a system; in many cases, a team. While growing in leadership, Wakisha recognized her need for mentors who could challenge and elevate her thinking and expand her network.
Enter "Mr. Pearson."
No excuses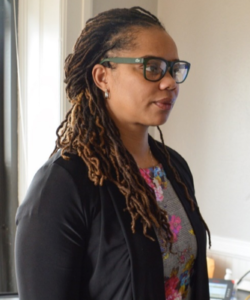 Wakisha first met Park University alumnus Walter Pearson, '90, in Jefferson City, Mo., during a gathering of the Missouri Legislative Black Caucus. During his storied career, Walter provided administrative leadership to three of the State of Missouri's executive branches: Department of Economic Development, Department of Natural Resources and Office of Administration. He also served as the assistant director of the Missouri Department of Economic Development, where he was responsible for overseeing the Missouri Division of Tourism, Missouri Arts Council, Missouri Film Commission and Missouri Minority Business Advocacy Commission.  In 1998, he was appointed by Gov. Mel Carnahan as the director of business and urban affairs, and in 2009, was named commissioner for the Missouri Office of Administration, providing oversight to the Division of Personnel, Division of Purchasing and Office of Equal Opportunity.
Walter, like Wakisha, was friendly but direct and got straight to business. Early on, the two established their working agreements: they would speak often, but would reference one another formally ("Ms. Briggs" and "Mr. Pearson"); Wakisha would complete his recommended assignments in timely fashion; and she must be willing to handle his constructive feedback.
"Mr. Pearson has taught me several things," Wakisha shared, "but the biggest takeaways for me have been to control my emotions and to always be prepared. He reminds me to think strategically so I can ask the right questions and align the right resources. When we talk, he usually gives me a list of things to consider or do, and he holds me accountable for taking action. I have come to appreciate the no-excuses dynamic of our relationship. Our interactions have made me a more effective leader."
Her time has come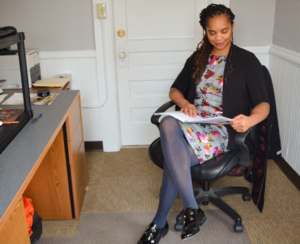 Today, Wakisha continues to strip away any excuses that hinder professional and personal progress. Promoted to Director of the Office of Continuing Education in 2009, Wakisha has overseen multiple high-profile projects at Park, including the Science e-fellow High Intensity Induction Program (designated "exceptional" by the American Council of Higher Education), and the North America International Chinese summer initiative for visiting teachers and students. She has also managed the Success for Veterans Walmart grant, developed the Office of Continuing Education Strategic Plan and assists in providing professional development opportunities to surrounding school districts.
"A lot of initiatives begin in the Office of Continuing Education, then they are given to other parts of the University to flourish and grow. I think there's a strong parallel between the initiatives that originate in Continuing Education and the kids at Bridge Leadership Academy. The seeds of potential germinate in one place, then they reach their full potential in another," Wakisha said. "I believe my role is to help shape successful ideas and people, then give them away."
Her leadership portfolio continues to expand. In addition to her role at Park, Wakisha was recently appointed board president of the Hickman Mills C-1 school district, a role in which she oversees a board of directors and works closely with the superintendent of schools to support the overall strategy and initiatives of the district. Yet, through it all, her mentor relationship remains intact. "Mr. Pearson," who was named Park's 2017 Distinguished Alumnus Award honoree, continues to meet with Wakisha regularly for development discussions.
"I knew one day that someone would ask me about Ms. Briggs," Walter reflected. "She is motivated by her faith and love for family and community. She still plays to win and she still coaches others to greatness, but in a different way. Her evolution is inspiring and I am glad to see others discovering what I have known for such a long time. She's a born leader whose time has come."